Date/Time
Date(s) - 29/Jan/2016

A Tribute dedicated to Women and Muses in Western Classical Music and Beyond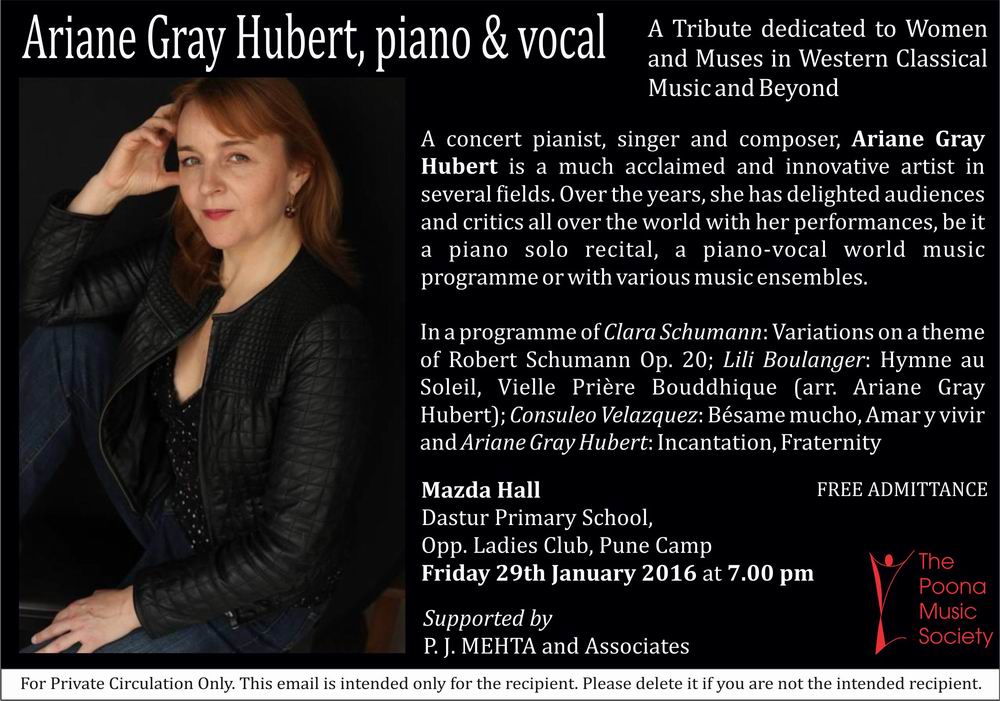 In a programme of Clara Schumann: Variations on a theme of Robert Schumann Op. 20; Lili Boulanger: Hymne au Soleil, Vielle Prière Bouddhique (arr. Ariane Gray Hubert); Consuleo Velazquez: Bésame mucho, Amar y vivir and Ariane Gray Hubert: Incantation, Fraternity
A concert pianist, singer and composer, Ariane Gray Hubert (French-American) is an innovative and pioneering artist in several fields. Over the years, she has delighted audiences and critics all over the world with her performances, be it a piano solo recital, a piano-vocal program or with various music ensembles. In her orchestral works she has experimented with both eastern and western music traditions, blending them in a unique manner- an absolutely visionary approach. Born in Paris, Ariane Gray Hubert started her musical journey at the age of four largely influenced by her American mother, Tamara Gray, and her great-aunt, who herself received her training in Geneva from one of the greatest pianist of the twentieth century, Alfred Cortot.
Her journey from the grand classical tradition of the west, being trained in the renowned Russian, Austrian and French piano traditions, to the rich, oral music tradition of the east has been a fascinating one. All through this journey, Ariane Gray Hubert has touched the hearts of her audience worldwide with her music and her performances, which are often described as "something unheard of" and "deeply elevating". Her expressive scales of playing and singing together with her unique way of improvisation, her powerful rhythmical ideas and inspiration from ancient musical traditions are typical characteristics part of the French American composer. There is no end to her unique style and excellence in music.
The music of the French American composer Ariane Gray Hubert is characterized with the unique combination of improvisation, powerful rhythmical ideas and inspiration from old chanting to ancient musical traditions from the world. She has received several international awards both as a composer and performer. Her music has been commissioned by international organizations including French, Indian, European and South American foundations for special events and causes. She is a composer and a member affiliated to SACEM in France.
http://www.ArianeGrayHubert.com