Date/Time
Date(s) - 21/Mar/2017

Gauthier Herrmann, cello
Mathilde Borsarello Herrmann, violin
Cécile Grassi, viola
Jean-Michel Dayez, piano
In association with Alliance Française de Pune
Programme: 16th March
Mozart: Piano Quartet No. 1 in G minor K 478;
Liszt: 'La lugubre gondola' for cello and piano and
Brahms: Piano Quartet No. 3 Op. 60
Programme 20th March
Beethoven: Piano Trio in E flat major Op. 1 No. 1 and
Brahms: Piano Quartet No. 2 Op. 26
Programme 21st March
Guillaume Lekeu: Violin Sonata in G major and
Brahms: Piano Quartet No. 1 Op. 25
The Artie's festival returns with an entire cycle of Brahms piano quartets. One Brahms quartet is played on each day and to the programme is added other masterpieces like Beethoven's first trio and Lekeu's violin sonata which was one of Menuhin's favourite pieces.
Cellist Gauthier Herrmann has assembled a team of players which include violinist Mathilde Borsarello Herrmann, a prize winner of the Thibaud-Long competition, Cécile Grassi, who is violist of the Psophos quartet and pianist Jean-Michel Dayez who graduated from the Queen Elisabeth Music Chapel and from the Paris Conservatory.
Traveller, entrepreneur, explorer, Gauthier Herrmann is not your typical musician. A passionate cello player with a focus on chamber music, founder and director of "Artie's", Gauthier has travelled the world for ten years in the company of his family and Artie's joyful musicians; artists united by their repertoire and their loyalty to each other.
His focus and determination have led him to be held in high regard on the classical musical circuit. He has received high awards (with the Trio con Fuoco) and acclaim at the Florence, Heerlen, Illzach, Vibrarte and Fnapec music competitions and he is highly respected by leading musicians. In 2001, Gauthier Herrmann discovered India. This trip gave birth to the Artie's adventure, a slightly crazy project summed up by two words at the heart of modern day classical music : family and enterprise. Artie's festival's development is thanks to an entrepreneur who, wanting to set-up a series of music concerts, sold his first cello, to make possible the dream of bringing together two worlds previously seen as incompatible: classical music and India. Nine years, 18 editions, 14 cities, 51 musicians, 65 trips and more than 37,000 spectators later, chamber music has found a home in India. Aside from India, Artie's has played in China, Saudi Arabia, Kuwait, Vietnam, Indonesia, Nepal and in Europe of course…
Cécile Grassi played chamber music at an early age and founded Psophos Quartet in 1997 with whom she is the violist. The quartet won numerous international prizes and it was the First French Quartet selected for the prestigious New Generation Artists BBC Radio 3 in London and in 2005 awarded "Best Ensemble of the Year" at the Victoires de la Musique. Other prizes include 3rd prize at Osaka, 2nd prize at Vittorio Gui competition in Florence and 1st prize at the String quartet competition in Bordeaux. The quartet has recorded many discs.
Jean-Michel Dayez graduated from the Valenciennes and Lille Conservatoires, then joined Jean-Claude Vanden Eynden's class at the Brussels Royal Conservatory (1997). A year later, he graduated with flying colours and was awarded the Special Jury Prize. In 1998, he was admitted to the Queen Elisabeth Music Chapel where he studied for three years and graduated with the highest honours. Jean-Michel is Artistic director of Ecouter-Voir season of Tourcoing and a member of Trio Leos. He teaches at the Conservatoire of Lille, Royal Conservatoire of Mons and at the Festival Academie de Arcs.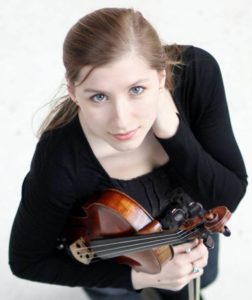 Mathilde Borsarello Herrmann started studying the violin from the age of five with her father. After being awarded the first prize in Suzanne Gessner's class, she later studied chamber music with Paul Boufil and joined the violin class of Patrice Fontanarosa and Jean-Jacques Kantarow at the Paris Conservatoire. Mathilde is a prize winner of the prestigious Thibaud-Long competition. She is a member of Orchestre National de France and Trio Estampe, and plays a violin by Riccardo Genovese of 1931.