Date/Time
30/Mar/2018 at 7:00 pm
Location: Mazda Hall
Gauthier Herrmann, cello
Hugues Borsarello, violin
Laurent Manaud Pallas, violin
Arnaud Thorette, viola
Olivier Patey, clarinet
In a programme of Mozart : clarinet quintet K 581, Beethoven : string quartet Op. 95 and Brahms : clarinet quintet Op. 115
In association with Alliance Francaise de Pune
Gauthier Herrmann is the Artistic director of Artie's festival. He won first prize in cello at the Paris Conservatoire and since then has embarked on a journey to establish Artie's festival in different parts of the world. A cellist passionately turned towards chamber music, he has travelled the globe for over ten years in the company of his family – the merry band of Artie's musicians brought together by great musical repertoire and loyalty to each other.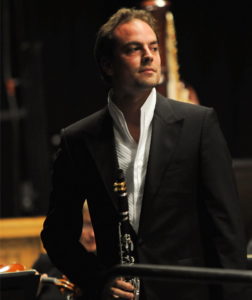 Olivier Patey has gained a deserved reputation as the most talented clarinettist of his generation. In great demand as a chamber music player, he tries to find time whenever possible to play this great repertoire for clarinet in spite of his full time appointment as principal clarinettist of the Concertgebouw Orchestra Amsterdam.
Hugues Borsarello is a violinist par excellence known for his combination of virtuosity and elegance. He performs as soloist and chamber musician all over France and Europe, and his recording of the complete Mozart violin concertos has been recently released on Arties Records.
Laurent Manaud-Pallas is the first soloist at the Orchestre National de France. He is also the principal violinist at the Orchestre de Pau Pays de Béarn. Laurent Manaud-Pallas plays a 1842 violin from Vissenaire.
Due to "his creativity, enthusiasm and dedication" Arnaud Thorette belongs among the most promising viola players of his generation. He has won prizes at the International Viola Competition in Genova, Paris, Nuremberg and Haverhill, and was awarded numerous distinctions, among them the Prix Académie Ravel. His repertoire ranging from Baroque to Contemporary Music to Tango provides a wealth of variety for his own musical expression.