Date/Time
20/Jan/2018 at 7:00 pm
Location: Mazda Hall
A Book reading from TRIO by author Boman Desai, with musical extracts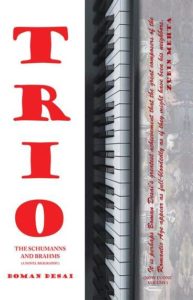 TRIO by Boman Desai is the story of three musical geniuses: Robert and Clara Schumann, and Johannes Brahms. Clara married Robert with whom she fell in love when she was just sixteen, though it meant challenging the iron will of her father who wished her to marry an earl or a count, certainly not an impoverished composer. The Schumanns had eight children and Robert's greatness as a composer was never in doubt, but he was also mentally ill, attempted suicide, and finally incarcerated himself in an asylum where he died two and a half years later. Johannes Brahms entered the picture shortly before the incarceration and fell deeply in love with Clara, but was just as deeply indebted to Robert for getting his first six opuses published within weeks of their meeting.
Boman Desai was born and raised in Bombay (now Mumbai), but has lived his adult life in Chicago. After studying Architecture and Philosophy, and getting degrees in Psychology and English, he was set to become a market analyst when a chance encounter with Sir Edmund Hillary, his earliest hero, brought him back to his vocation: writing novels. He took a number of part time jobs ranging from bartending to auditing to teaching to find time to write. He got his first break when an elegant elderly woman personally submitted a number of his stories to the editor-in-chief of Debonair magazine in Bombay. The stories were all published, but the woman disappeared and her identity remains a mystery to this day. He has published fiction and nonfiction in the US, UK, and India. His work has won awards from the Illinois Arts Council, Stand Magazine, Dana, Noemi, War Poems, and New Millennium (among others). He has taught fiction at Truman College, Roosevelt University, and the University of Southern Maine. He is also an amateur musician and songwriter.
This evening will be dedicated to Boman's dear friend and composer Shiv Mathur.