Date/Time
Date(s) - 04/Dec/2016

Supported by Italian Embassy Cultural Centre, Mumbai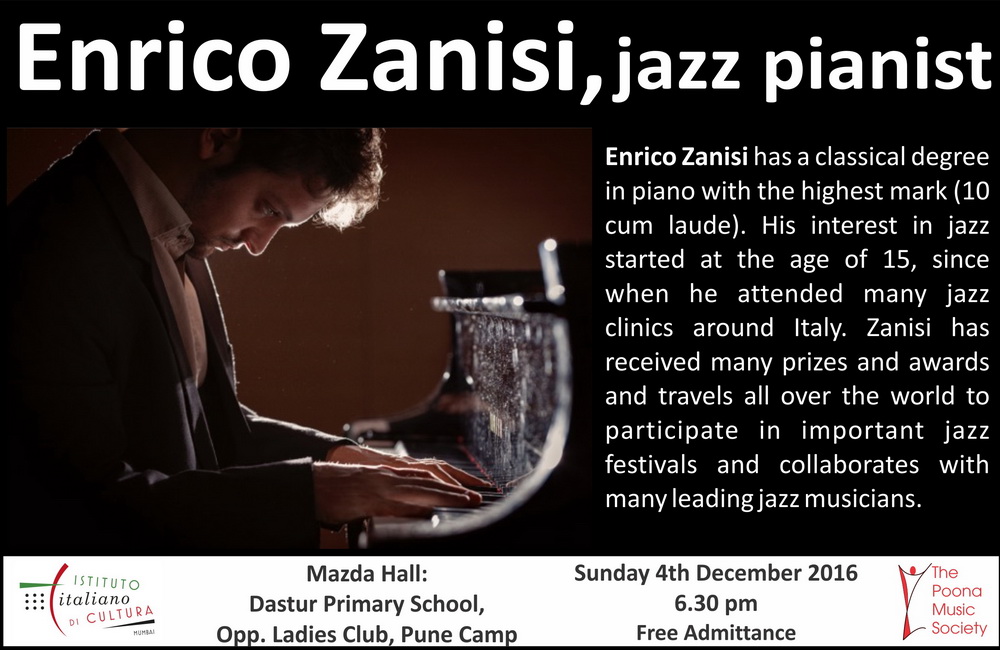 Since his debut, Enrico Zanisi has proved to have the makings of a rocketing star, to whom the label of enfant prodige of Italian jazz was soon to become a tight fit. That's why this piano solo album to be released on CAM JAZZ, seems well-timed for an ideal start to a new era in the career of this young pianist. Following three trio albums and several side projects, Piano Tales comes to crown a journey during which the Roman pianist has explored the boundaries of his music but leaving its distinguishing natural grace intact. This recording reveals a brand new Zanisi, more full-fledged but, above all, aware of his potential as songwriter and player. This work consists of eleven tracks, mostly less than four minutes long, a purported collection of musical feelings, more than an actual concept album.
Enrico Zanisi has a classical degree in piano with the highest mark (10 cum laude). He was awarded the first prize in many music competitions and from the age of 8, he began playing chamber music. His interest in jazz started at the age of 15, since when he attended many jazz clinics around Italy studying with K. Werner, J. Calderazzo, L. Grenadier, P. Markowitz, M. Stamm and other great American and Italian musicians. In 2007 he won the first prize at the first jazz piano competition 'Franco Russo' in Trieste and he has won the second prize at the 'Premio Roma Jam Session' in Rome. In 2008 he got a scholarship to attend two semesters at the Berklee College in Boston and in 2009 he won the First Prize and the Special Prize at the very renowned 'Chicco Bettinardi' jazz competition held in Piacenza, and was selected to study at the Manhattan School of Music in New York. In 2010 he won the third edition of the 'Vittoria Rotary Jazz Award'.
Zanisi travels all over the world to participate in important jazz festivals and collaborates with many leading jazz musicians.