Date/Time
Date(s) - 05/Apr/2017

Santanu Datta, guitar and singer
Subhasis Bhattacharya, tabla
Pierre-Antoine Lasnier, bass guitar
In association with Alliance Française de Pune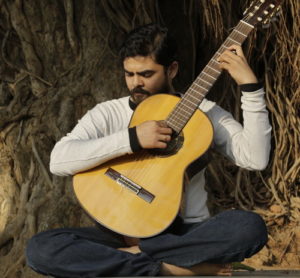 Santanu Datta is a music producer, composer, guitarist, singer and music educator whose  musical ventures extend from the Jhumur of Bengal to the contemporary classical music of Europe, in the quest of his personal sound.
After graduating from the Indian Institute of Technology in 2011, Santanu moved to Paris to study Western Art Music and received training in Composition, Harmony, Counterpoint, Fugue, Orchestration, Analysis, Guitar and Chamber music from distinguished musicians like Edith Lejet, Stéphane Delplace, Anthony Girard, Narcis Bonet and others. In 2016, Santanu completed the Diplôme Supérieur (Masters) in Composition from the Ecole Normale de Musique de Paris with unanimous voting of the jury. Santanu also studied the Classical Guitar performance extensively and holds Diplôme d'Etude Musicale (D.E.M.) from the Conservatoire de Ville-d'Avray and L.T.C.L. from the Trinity College London. Santanu has received various scholarships for his musical studies and his works have been performed by musicians from all over the world.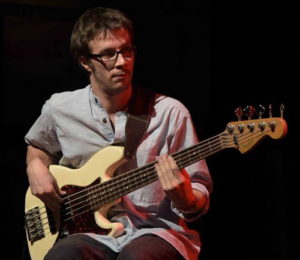 Pierre Antoine Lasnier is a multitalented artist from Paris. Pierre started his musical journey at the age of 5 with the flute as a primary instrument and trained himself in western classical music. At the age of 14 he shifted to his present instrument (Electric Bass Guitar) influenced by some legendary musicians like Jaco Pastorius, Miles Davis, etc. He trained himself in Latin music and its rhythm concepts to be focussed on groove playing rather than portray himself as a solo bass player and accompanied with so many artists in various genres like Rock, Jazz, Funk and so on. Meanwhile he started producing electronic music and came up with a production company called ABHIND MUSIC based in Paris and Kolkata. He recorded his first album (French Rock Auto Production) and built a recording studio in the outskirts of France where he devoted himself in making music with his own dimension by mixing up all his influences and philosophy from life which he derived. At present, he lives in Kolkata and is taking talim in Hindustani Classical music under his Guru Pandit Debashish Bhattacharya who is a world famous slide guitar player with whom Pierre has also performed. He is looking forward to his journey by making music with influences of music, lifestyle and philosophy from both, East and West.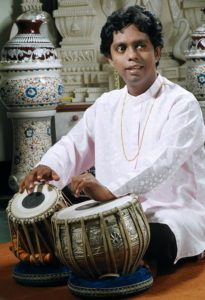 Subhasis Bhattacharya received a first-class honours degree in music from Rabindra Bharati University, Kolkata…. He is a BBC award winner and is a Grammy nominated artist from Kolkata. He is a renowned tabla player Composer.. Music arranger.. and an exponent of a variety of percussion instruments such as dholak, kanjira, mridanga, djembe and dumbek. He has composed music for many contemporary Indian albums as well as for numerous films and TV serials. A member of the illustrious Bhattacharya lineage, Subhasis is a musician of sophistication and refinement, born with a highly developed sense of melody and rhythm. His initial training was undertaken by his parents, Sri Sunil Kumar Bhattacharjee and Smt. Manjushree Bhattachrjee and by his elder brother, legendary slide guitarist Pt. Debashish Bhattacharya.
Bhattacharjee belongs to the Rampur Farukhabad schooling of tabla, and studied under the late Pt. Prabir Bhattacharya, late Pt. Shyamal Bose and Pt. Samir Chatterjee. For the past 20 years Subhasis has received special training under tabla maestro, Pt. Anindo Chattopadhyay. Though Subhasis, is primarily an Indian classical musician, his influence extends far wider, from Tollywood to Bollywood, folk to World Music, jazz to Hawaiian music.
He has recorded and performed with eminent musicians including Pt. Ajoy Chakraborty, Smt. Asha Bhosle, Smt. Kavita Krishnamurthy, Shankar Mahadevan, Pt. Kushal Das, Ustad Shujaat Khan, Sri Balamuralikrishna, Madurai Seshgopalan, U. Srinivas, Bob Brozman, John McLaughlin, Martin Simpson, Derek Trucks, Jerry Douglas, Ledward Kaapana and Pt. Debashish Bhattacharya.