Date/Time
Date(s) - 01/Oct/2016

In a programme of Beethoven: Sonata No. 31 in A flat major Op. 110; Brahms: Variations on a thema by Paganini Op. 35 and Chopin: 4 Ballades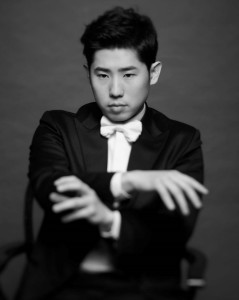 Pianist Jinsang Lee is renowned for his extremely sensitive yet charismatic projection of sound. His unique interpretation and embedded rich emotions have attracted many music lovers across continents.
Jinsang Lee made his clear footprint in the international piano music scene when he won the First Prize at the Concours Géza Anda in 2009. A triumphant success by also becoming the first contestant ever in the history of the Concours to carry off all three special prizes of the Audience Prize, the Mozart Prize and the Schumann Prize fascinated the critics and audience to great enthusiasm. Jinsang's artistic talent had already been recognized by winning top prizes at a number of international piano competitions including First Prize at the Hong Kong International Piano Competition (2008) chaired by Vladimir Ashkenazy; First Prize, Scarlatti Prize and Orchestra Prize at the International Pianoforte Competition Cologne (2005); and Second Prize at the Sendai International Music Competition (2001) followed by a number of top prizes back home in Korea.
Jinsang has performed with renowned conductors including Vladimir Ashkenazy, Michael Border, Douglas Bostock, Michael Brousseau, David Effron, Heiko Mathias Förster, Eivind Gullberg-Jensen, Peter Gülke, Theodor Guschlbauer, Antony Hermus, Michail Jurowski, Roman Kofman, Mark Laycock, James P Liu, Christian Ludwig, Jonathan Nott, Ola Rudner, Si Yeon Sung, Muhai Tang, Umeda Toshiaki, Mario Venzago, Christopher Warren-Green and Nikolaj Znaider. Cooperation with orchestra includes Argovia Philharmonic, Bamberg Symphony Orchestra, Bern Symphony Orchestra, City Chamber Orchestra of Hong Kong, Graz Philharmonic Orchestra, Konzerthaus Orchestra Berlin, New Philharmonic Westfalen, Nuremberg Symphony Orchestra, Orchestra della Svizzera Italiana, Sendai Philharmonic Orchestra, Shanghai Philharmonic Orchestra, Tonhalle Orchestra Zurich, Vienna Chamber Orchestra, the WDR Radio Orchestra Cologne, Wuerttemberg Philharmonic Reutlingen, Wuhan Philharmonic Orchestra and Zurich Chamber Orchestra across different continents.
He also appeared in a number of world's most prestigious music festivals including Busoni Festival, International Chamber Music Festival of Cervo, Musikdorf Ernen, Lucerne Festival, Menton Festival, Menuhin Festival Gstaad, Montreux Festival, Murten Classics, Piano Festival Ruhr, Seoul Art Center Orchestra Festival, the Joy of Music Festival Hong Kong and Wuhan International Piano Festival. Numerous invitations led him on the international concert stages including the Berliner Philharmonie, Konzerthaus Berlin, Louvre Museum, KKL Lucerne, Meistersingerhalle Nuremberg, Tonhalle Zurich and Konzerthaus Vienna.
Jinsang's passion in searching for the perfect sound has also led him to a bit of unusual path. He learned the piano manufacturing and techniques himself by working at Steinway Austria under the guidance of master piano technician Stefan Knüpfer (star of the docu-movie "Pianomania") seeking to better understand the piano as a living instrument. This journey further continued by joining Steinway Hamburg factory to learn the piano manufacturing process himself to take part in every step towards the perfect piano sound from selecting and processing the wood to auditioning the final completed piano, and to finally playing with the very piano that he chose for the audience. With these special insights and experience, he continues a rich concert career across different continents to share his journey to find the perfect piano sound with the audience.
Starting his musical education with Daejin Kim in Korea, Jinsang continued his studies in Germany with support of Wolfgang Manz and Julia Goldstein, before completing his studies under the guidance of Pavel Gililov in Austria. An active and passionate chamber musician, he is a member of Beethoven Trio Bonn and performs frequently with other fellow musicians in various chamber music concerts.