Date/Time
Date(s) - 04/Sep/2016

In a programme of Mozart: Fantasy in D minor; Alkan: Fantaisie Op. 76 No. 2; Chopin: Nocturne Op. 9 No. 1; Verdi: Miserere from "Il Trovatore"; Liszt: Valse d'Adèle; Scriabin: Prelude and Nocturne Op. 9; Brahms: Intermezzo Op. 117 No. 2 and Ravel / Zecchini: Piano Concerto for the Left Hand
In association with Alliance Française de Pune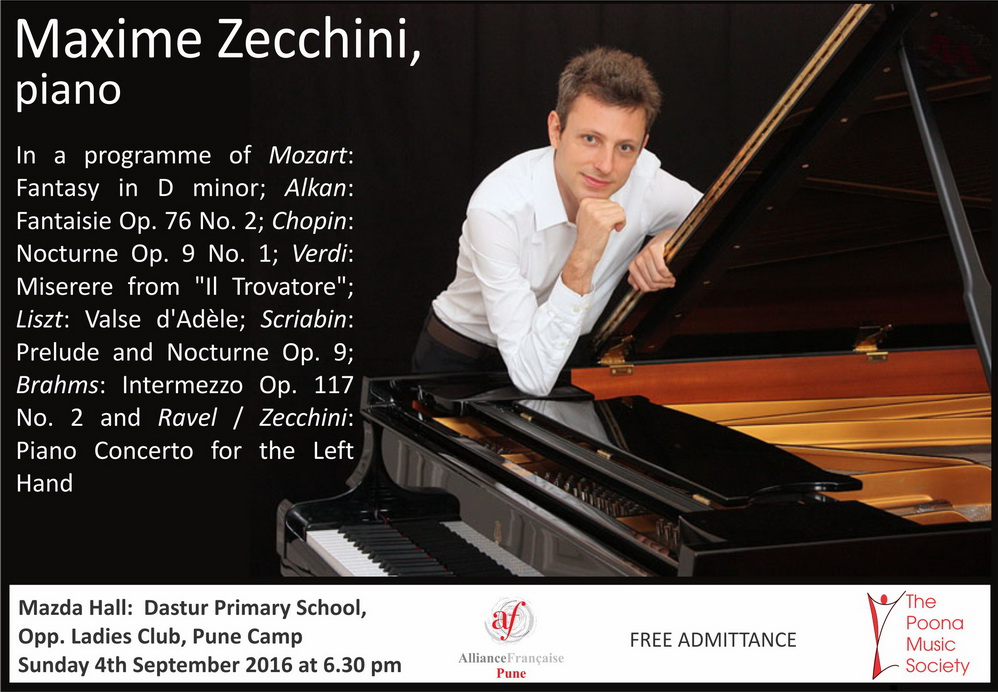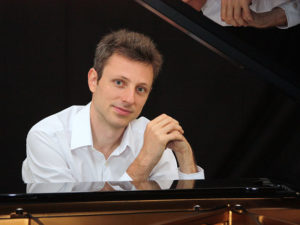 Maxime Zecchini, born in Paris in 1979, began a course of study at the "Conservatoire National Supérieur de Musique" of Lyon, in Géry Moutier 's and Danièle Renault- Fasquelle 's class, where, in June of 2001, he earned the DNESM (Diplôme National d'Etudes Supérieures Musicales) with highest honours and special commendation (by a unanimous vote). He was later accepted at the "Conservatoire National Supérieur de Musique" of Paris in Jean-François Heisser's advanced proficiency class.
Maxime Zecchini is the first French pianist to receive a degree from the prestigious "Incontri col Maestro Academy" in Imola (Italy) and is winner of the International competition in Arcachon in 2000. First Prize winner (by unanimous decision) of competition of Forum de Normandie, he was awarded in 2002 the Cziffra Foundation Prize and at the Ragusa-Ibla competition (Sicily). In 2003, he won the First Prize by a unanimous decision at the International competition at Varenna-Lake Como (Italy).
Maxime Zecchini has received scholarships from the Marcel Bleustein- Blanchet foundation for the Vocation, as well as further awards from the Meyer Foundation, and the Mécénat Musical Société Générale. He was also supported by the Bru Zane Foundation of Venice.
He has played in Paris (Salle Gaveau, Théâtre du Châtelet, Salle Cortot, Théâtre Marigny,…) as well as in numerous festivals and concerts in France and abroad (in Italy, Germany, Austria, England, South Africa, China, Polynesia, Japan, South Korea, Mongolia, Kenya, Uganda, Djibouti, Zambia, Zimbabwe…).
Maxime Zecchini is an eclectic musician: he has orchestrated music for television, and directed musicals. He has also played with the singer Julia Migenes and given "concerts-lectures" with the actress Anouk Aimlée. Fascinated with composition since early childhood, he is the composer of numerous original works and transcriptions. He has published at the Editions Durand-Salabert-Universal Music.