Date/Time
Date(s) - 03/Feb/2016

In a programme of Wagner-Liszt: Pilgrim's chorus from 'Tannheuser', Isolde's Liebestod from 'Tristan and Isolde'; Liszt: Transcendental Etude 'Chasse-neige'; Chopin: Andante Spianato and Grande Polonaise Brilliante Op. 22 and Mussorgsky: Pictures at an exhibition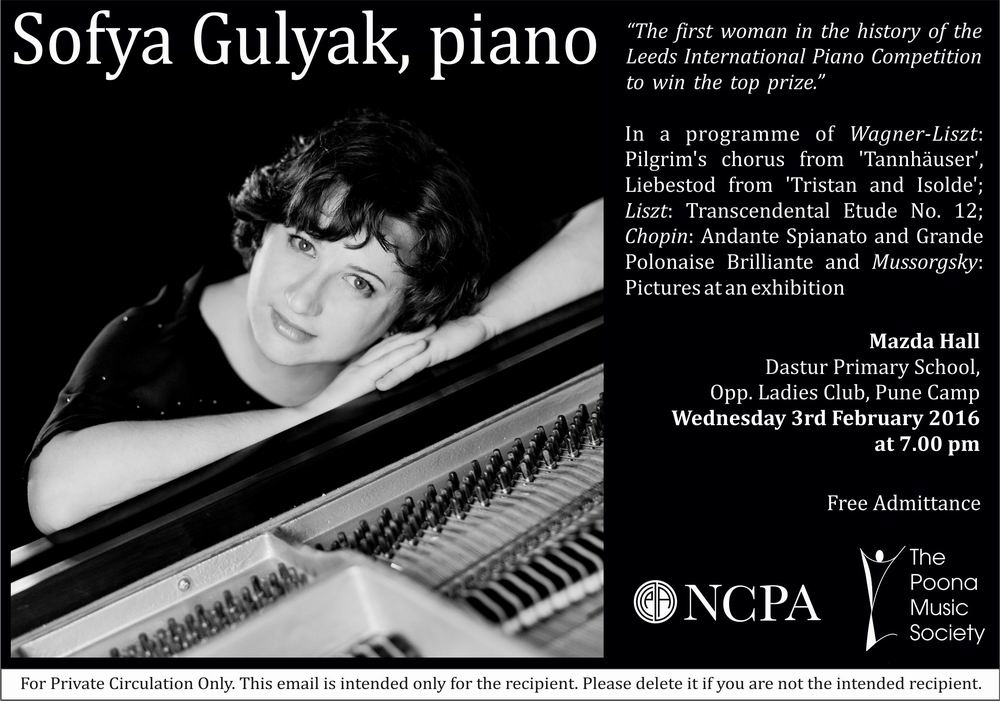 Sofya Gulyak is a native of Kazan (Russia) where she studied in a Special Music College under Nailya Khakimova, and then in Kazan State Conservatoire under Professor Elfiya Burnasheva. After that she continued her studies at the Piano Academy "Incontri col Maestro" (Imola, Italy) with Boris Petrushansky and at the Royal College of Music in London with Vanessa Latarche.
In September 2009, Sofya Gulyak was awarded the 1st prize and the Princess Mary Gold Medal at the Sixteenth Leeds International Piano Competition – the first woman in the history of the competition to achieve this distinction. Since then, she has appeared all over the world to great acclaim and has won numerous prizes in various competitions. Her playing has been broadcast on radio and TV in Russia, Poland, France, Italy, Germany, USA, Finland, Denmark, Serbia, New Zealand, Brazil, Mexico and the United Kingdom (BBC3 and BBC4).
She is presently a professor of the piano at the Royal College of Music in London and has attended as a jury member, international piano competitions in Italy, Serbia, France, Greece, USA, and has taught master classes in China, Italy, Australia, New Zealand, Philippines, Hong Kong, Mexico, USA and Germany.