Date/Time
30/Nov/2017 at 7:00 pm
Location: Mazda Hall
The Odyssees in India – Odyssey for cello and imaginary choir

In music of Bach, Prokofiev, Aperghis and popular songs of Berber, Egyptian, Syrian and Byzantine origin.
Odyssey for cello and imaginary choir is a visually powerful concert for cello and sound track by Sonia Wieder-Atherton. Imagine a circle. In the circle, a woman, alone, talks, wails, whispers. To the Earth, to the Gods, to herself, against a sound track mingling boats' sirens, crickets chirping in the burning sun, the murmur of the crowds, the wind, the waves, the storm and chaos, in a dreamlike time of thirteen adventures. The show premiered at Aix-en-Provence in the south of France in 2012. It has toured France and abroad, playing to audiences in large and small venues and historic sites with natural backdrops.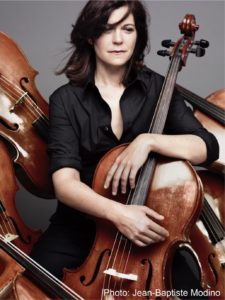 Sonia Wieder-Atherton has always used music as a language open to the world. It is a personal quest that, over the years, has taken her from one repertory to another, from one discovery to the next, in an unbroken process of exploration. In 2011, she won the Bernheim Foundation Arts Prize, one of the Foundation's three annual awards to individuals whose work is deemed to be of creative value in the fields of the arts, literature and science.