Date/Time
Date(s) - 27/Nov/2016

António Carrilho, recorders
Katharine Rawdon, flutes
Raj Bhimani, piano
In a programme of Ian Clarke: Maya; Jacob van Eyck : Ons vader in Hemelrijk (Our Father in Heaven); Gabriel Fauré: Barcarolle No. 6 in E flat Major Op. 70; Carlos Marecos: 7 Moments from 7 Rural Regions of Portugal; Bach: From Duetto No. 4; Ali ben Sou Alle: Souvenir de l'Inde; Henri Dutilleux: Sonatine for Flute and Piano; Franz and Karl Doppler: Fantasy on Rigoletto, after the Opera by Giuseppe Verdi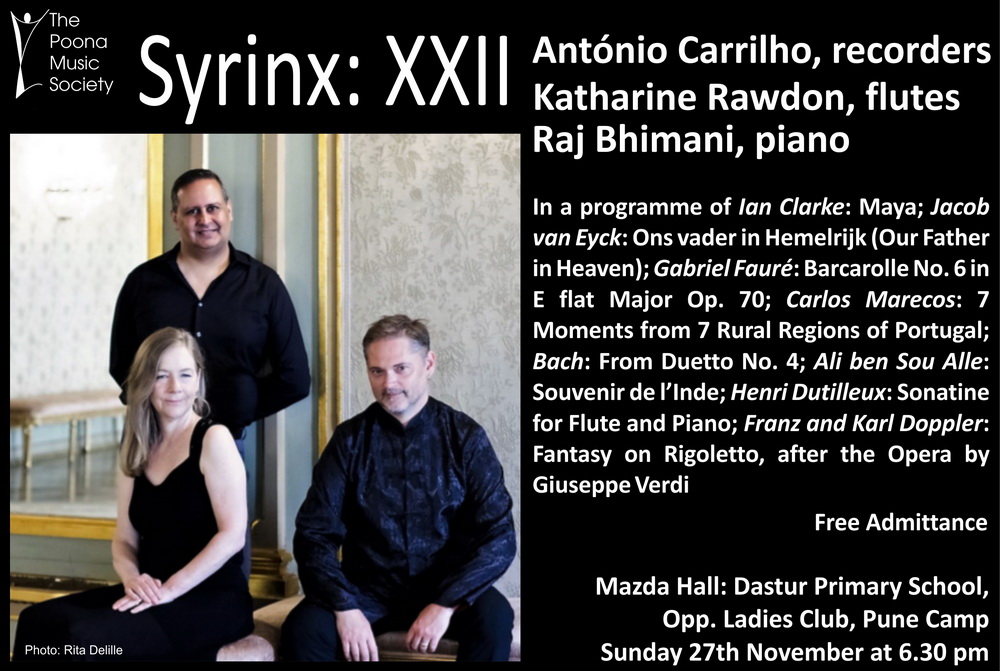 The remarkable synergy of three outstanding musicians, each bringing to the stage his own point of view and expertise.  With a vast array of flutes of all kinds and sizes – a veritable pan-pipe or Syrinx – a new approach to music and programming thinking forward to the 22nd Century is forged: unrestrained, creative, collaborative, and always at the highest artistic level.
With the recorder player António Carrilho bringing a specialization in the baroque and pre-baroque as well as the avant-garde, the flutist Katharine Rawdon, whose repertoire centers on the modern but reaches back through the 19th Century to the baroque, and the New York pianist Raj Bhimani, bringing a sensitivity for the Romantic and French repertoire, the stage is set for a combustive mix and the pure delight of the senses.
Syrinx : XXII had its premier concert in Manhattan in April of 2014.  Its recent concert at the largest festival in Lisbon, the Dias da Música, was sold out and an invitation to return next season was immediately issued.  They've also performed on and been interviewed by the national radio in Portugal.