Date/Time
Date(s) - 19/Feb/2017

Maria Jauk, flute
Frédéric Alvarado-Dupuy, clarinet
Julia Zulus, oboe
Marialena Fernandes, piano
In a programme of Malcolm Arnold:  Divertimento for Woodwind Trio Op. 37; Franz Schubert: Trockne Blumen for Flute and Piano D 802; Jörg Widmann: Underwater Dance for Solo Clarinet; Camille Saint Säens: Caprice Op. 79 for Flute, Oboe, Clarinette, Piano; Beethoven: Woodwind Trio Op. 87; Robert Schumann: 3 Romances Op. 94 for Oboe and Piano; Camille Saint Säens: Tarantella Op. 6 for Flute, Clarinet and Piano
Maria Jauk from the State of Styria in Austria began to study the recorder and piano even before her primary school education. As a result of this, she found her dream instrument the Flute and soon after her school leaving certificate, she was accepted into the University of Music and performing Arts in Vienna. At first she studied Pedagogy with Prof. Ralph Leone then completed her Performance Degree in 2015 with Prof. Barbara Gisler-Haase. Since 2014 Maria Jauk has a position as Flute teacher in the famous Johannes Brahms Music school in Mürzzuschlag, and since 2016 at the Johann Sebastian Bach School with special emphasis on Supervision at the University of Music and performing Arts in Vienna.
Born in Vienna, Julia Zulus was drawn to music early. Her mother, not from a musical background herself, allowed her to take piano lessons at the age of 6. Later she developed an interest in the oboe when she started taking lessons with Wolfgang Plank (Vienna Philharmonic) at the age of 13. As an orchestra musician, Julia Zulus has played in all the big orchestras in Vienna, such as the Vienna Symphony, the Radio Symphony Orchestra and the Vienna Philharmonic. Since September 2014, she is a member of the Stage Orchestra of the Vienna State Opera, which allows her explore the world of opera, both on stage and in the orchestra pit. Julia Zulus is particularly passionate about chamber music.
Frédéric Alvarado-Dupuy born in Vienna is a clarinettist with passion. Having completed his Master of Arts he breaks boundaries and sees no borders between different genres of music be it ancient or modern, folk, ethnic or avantgarde. Everything that he likes, he enjoys playing. He is having great success with his band Federspiel at home and abroad as well as with his Woodwind-Trio Viennair. And if at all Frédéric has nothing to do, then he just writes his own music!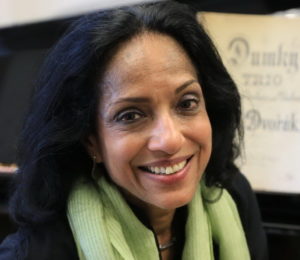 Born in Mumbai, Marialena Fernandes has been since several years a recognized artist on the international scene. After acquiring her Licentiate Diploma of the Royal Schools of Music (LRSM), Fernandes completed her education from the Mumbai University in Psychology. She then went on to the University of Music and Performing Arts in Vienna, where she received her Diploma in Piano and Chamber Music Performance with unanimous distinctions. Solo, Chamber Music and Orchestra concerts in most European capitals followed, but also in USA, Australia, Africa and Asia. Annual TV and Radio broadcasts. Since 1991, Professor at the University of Music and Performing Arts in Vienna, she participates in workshops and masterclasses around the globe, and as Jury member at International Competitions.