The oldest working Steinway concert grand piano in India belongs to us, the Poona Music Society. It is in Gulati Hall now, being used as a practice instrument since 1995 when it was no longer capable of producing a sound required for concerts. Restoring it at the time wasn't feasible, so we saved for a new one and bought the Blüthner that we use in Mazda Hall today.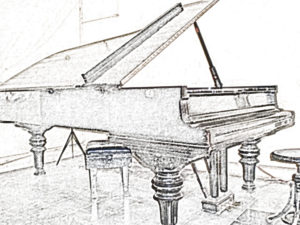 Our Steinway (Serial No. 70794) was built in 1892 in Hamburg. Brahms, Rachmaninoff, Scriabin, Busoni and Godowsky were all alive then, composing their masterpieces for a piano like ours. Even Franz Liszt would have known the sound of such a piano, as between the time of his death (in 1886) and 1892, Steinway pianos had not undergone any major change in manufacturing technology.
With the recent establishment of a piano-refurbishing facility in Mumbai, by Furtados in collaboration with experts from the UK, it is now possible to bring Steinway 70794 back to almost the same condition as when it was built. Steinway & Sons has agreed to manufacture a special pinblock for us, and a pinblock expert from the UK is willing to travel to India to carry out this restoration.
Similar successful restorations have been done in the recent past on Steinway Serial No. 61487 belonging to the American Church in Paris and Serial No. 104600 belonging to Queen Elisabeth of Belgium.
The Poona Music Society needs to collect approximately Rs. 40,00,000, which is the estimated cost for this restoration. Your contribution will enable not only the restoration of a unique instrument, but preserve a slice of history for future generations.
Best of all, it will give us the possibility of hearing what Brahms and Rachmaninoff heard while composing and playing.
To save Steinway 70794 and restore it to its original glory, you may make a donation here or send in your contributions favouring The Poona Music Society and mail your cheque to our registered address:
The Poona Music Society
c/o Forbes Marshall
A 34/35 MIDC H Block,
Pimpri, Pune 411018
You may also electronically transfer funds to:
For remittances in INR by Indian citizens
Account number: 051210100101750
Name of the Bank: Bank of India
Branch: Koregaon Park, Pune 411001
MICR code: 411013018
Swift code: BKIDINBBKOR
IFSC code: BKID0000512
PAN No: AAATP1119M